Two children were killed and two others seriously injured after a house fire Friday morning on Staten Island, New York City officials said.
Firefighters received a call about a fire at around 10:18 a.m. ET and learned that children were trapped on the second floor of the residence, the New York Fire Department tweeted.
Die
Crews found "heavy, advanced fire on the second floor," department spokesman Jim Long said.
A 5-year-old girl was pronounced dead at the scene, while a 6-year-old girl died in hospital, according to the New York Police Department.
In addition to the two children in critical condition, two teenagers and a firefighter suffered minor injuries, the FDNY said.
It was unclear what relationship the victims were in, but according to Long, authorities believe they all came from one family. Investigators do not believe there were adults at home at the time of the fire.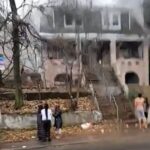 in
Video posted to the Citizen app showed large clouds of smoke and flame coming out of the house.
The cause of the fire was investigated.